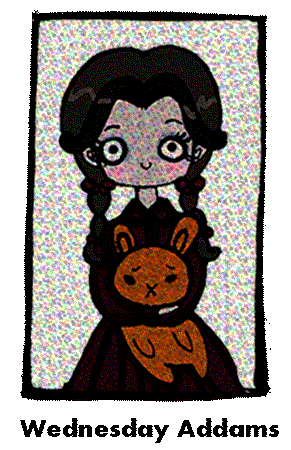 Today is Wednesday, and so fittingly I decided to add this adorable little gif of Miss. Wednesday Addams.
I really love her as a character. I feel like a lot of people do.
Today I'm working on my reference journal, and hopefully I can at least get through the important dates section. I ended up spending most of the morning on Twitter, which wasn't the worlds greatest decision. I get lost in all the writing questions and end up in a Writing Community rabbit hole. I guess I just really miss talking to my friends and family about my stories.
I'm praying that this afternoon will be a productive one. I'm also hoping to do some serious editing of a few chapters this week that I'd like to discuss with my editor. Honestly, having an this second set of eyes is wonderful. I'm so grateful.
I've also been editing for someone else…and getting paid for it…which is a first for me. I've never been paid to edit before. It's really nice. I like providing feedback. I also appreciate the money, and the fact that I'm finally putting that English Lit degree to good use (aside from writing).
With recording studios still adjusting to our new norm' things have definitely been slow. A lot of shows are on hold still because the studios, directors and cast members are all working together to create an environment that makes everyone feel safe. I've only been in studio once since they reopened, and have been working from home aside from that. It's definitely different, and I really miss the people I've worked with, but I'm glad that they're prioritizing safety above all else.
So, being paid to edit is definitely a nice way to keep me somewhat a float until things get back to normal. Plus I'm learning a lot.
I do think I need to get a day planner or something though…because I've been trying to balance all of my jobs throughout the week and I hate when suddenly the weekend roles around and I realize that I still have so much work to do! Especially when I haven't even gotten to work on my edits. I think I do a decent job of prioritizing what needs to get done however I really, really, really wish I had more energy.
Well, I'd best continue with this reference journal.