Over the years I've picked up different tips and tricks to help make drafting my novels a bit easier. When I first started writing novels, I would draw out what my character's looked like, along with say their bedrooms or parts of their house but for some reason I stopped as I got older. Personally, I think it was because of how much time I had. As a thirteen-year-old I had more time to work on my stories and was completing a novel every one to three months…which I'm still astonished by because it took me seven years to complete my last one. Can you imagine doing NANOWRIMO every month?
Having a visual was fantastic. I of course still draw all my character's, but I stopped drawing where they lived which at first, I didn't think was such a huge deal but now I'm realizing not having those visuals can become extremely frustrating. Sometimes while drafting you might forget the colour of a particular character's bedroom, and perhaps this colour is significant throughout the story. Let's imagine that this bedroom will ultimately become this character's tomb, so recalling the colour, the smells and the overall atmosphere of the room should be brought up multiple times throughout the text. If you however have no clear idea of that or even say you step away from writing for a week and jump back into the story, you might miss something. Like I mentioned earlier, you could forget that this character's bedroom has an apricot colour and that it smells of a certain perfume, let's say a deep floral. A few chapter's later, if you aren't careful this entire image could change. It's as bad as when you're watching a movie and the main character is dragging their right leg because they're injured but then in the following scene they're hobbling along with their left. Being consistent with these types of details is equally as important as remembering the colour and texture of your main character's hair.
Something that I decided to do was do description exercises, where I would write up what each character's home looked like, taking the time to describe the individual rooms and overall property. Not just the important ones, but all of them, as if I were taking a tour. I found that in doing this I was less likely to forget the characteristics of a room. Instead it allowed me to give stronger descriptions later on. Personally, I wish I had been doing this all along.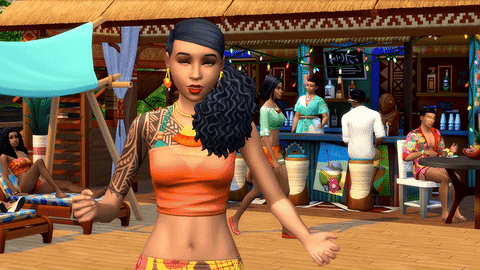 Another thing that I tried was creating my character's homes on The Sims, which again works well but only if you can constantly go back to look at it. It did however help me realize some issues with how I chose to layout certain houses. For example, the top floor having what seemed like an endless number of bedrooms and the main not having enough space to compensate that. Little peculiarities like that. If you have access to the game (or something similar) I would recommend it, as you get a great visual. This may not help with everything, but it can definitely be a good starting point. You might want to build your character's world within the game before trying to describe it.
One other thing that I want to recommend, since we're on the topic of descriptions is to include character's when doing these types of exercises. This is to avoid using the same words over and over to talk about a character's hair. Let's pretend they have thick curls. Are you going to say "Philip ran a hand through his thick curls" every time you want to reference his hair? Are the curls tidy or messy? What colour do they have? Does the colour change depending on the lighting? Something else that's important to a character is how they choose to dress themselves. Does this character take great pride in how they look, or could they care less? This is not to say that you spend pages upon pages telling us about what Nadya wore to school that morning, but you should have some idea of how your character likes to dress and if the clothing is significant to a scene keep track of it. It's important that Cinderella is wearing glass slippers, is it not? Dorothy's she's are also significant to her story. We aren't to forget that these shoes have magical properties!
Perhaps you want to assign your character a particular style? This is something I did as a kid, especially when my younger sister was playing games like Style Savvy. It was incredibly helpful. I had some character's who preferred to dress in comfortable layers and others that preferred goth and alternative fashions. It may not seem as significant as a character's overall voice and personality, but what they wear can help contribute to that. Do we not cultivate clothing to add to our collection (well, some of us do) or decorate our personal spaces with things that reflect who we are?
I personally wouldn't have soccer trophies in my bedroom if I didn't play soccer growing up.
Something that you could do as a warm-up is to describe a room in your house (even a desk if you wanted to try something small scale). For instance, by mentioning the soccer trophies in my room, the reader might then infer that I have an interest in sports. If I add that the trophies are dusty, that would indicate that I haven't played sports in some time or that I don't take pride in it. If I go on to add that the trophies were all participation trophies that would give off another hint about what type of person I am.
By doing these exercises with your own characters and settings you'll have an easier time catching inconsistencies down the line (or avoid them altogether).
Happy writing!