I recently completed volume 8 of Daytime Shooting Star, and I have to admit the lack of Mr. Shishio definitely improved my reading experience. I like this series a lot but I find that my ratings flop between 4 and 5 star simply because of his character. It's the scenes where Suzume is feeling completely vulnerable and insecure that I find both frustrating and upsetting, because she's a kid in her first relationship and this grown man who is not only her teacher but also friends with her uncle is exploiting that.
This volume was fantastic because he wasn't as present, and the story focused more on Suzume and her relationship with her friends, mother and uncle.
In the last volume I was thrilled when her uncle was furious with Shishio upon finding out about him and Suzume. I applauded.
Don't get me wrong, I don't hate Mr. Shishio. I like that he contradicts himself. I like that he's a flawed character…I just don't like the toxic relationship he has with Suzume. I know that the author Mika Yamamori has also expressed that many of her readers dislike him and I think it's possibly because we're seeing how problematic this relationship is.
I felt the same when rereading a favourite series of mine called Papillon by Miwa Ueda, where the leading protagonist Ageha dates her school guidance counsellor. It's unsettling.
I understand that these two manga's do fall under the umbrella of teen drama's and forbidden love tropes but I can't help but feel uncomfortable while breaking down these couples relationships. Suzume is completely crushed at this point in the series and had been working so hard to try to seem more grown up while spending time with Shishio outside of school. She felt so much pressure in the relationship, where his own concern was people finding out that he's dating his student.
Back when I was in high school I didn't think twice about this trope. I was eating up the drama. I was the same age as these female leads…now I'm the same age as their male love interests and certain scenes make me feel sick to my stomach. I still love the series, and I still enjoy the leading ladies of these books but I just can't ship these characters. As a teenager I barely questioned it at all.
This must be what Pretty Little Liar's fans felt like. I know that when I watched the first season of Riverdale I was pretty grossed out by the whole Archie x Grundy thing.
I have a feeling that I probably rant about this series a lot, and some might say, "Well if you don't like the Student-Teacher trope then why do you still read it?" but honestly, it's a good series. The story is compelling, the characters are engaging and the artwork is lovely. I was actually relieved when Mr. Shishio was called out for dating Suzume and acknowledged that what he was doing was wrong. I had hoped he would have called off the relationship before allowing things to escalate. I had hoped that in those moments where the reader gets a glance into his thoughts that he would push back, acknowledge how his behaviour and decide that it would be best to keep Suzume at a distance…but even when he did, he ended up pursuing this relationship with her and that was the point where I was like "Bruh. What the heck are you doing?"
Part of me hopes that they wont magically get back together but at the same time I'm doubtful.
The only series that I've read where this type of trope was criticized was Mars, which if I highly recommend, but I will give trigger warnings for various topics of abuse, self-harm and suicide.
I've noticed these topics in a lot of 90s shojo series…even ones that are considered comedies, so I always like to give a bit of a warning to anyone who may find these topics unsettling.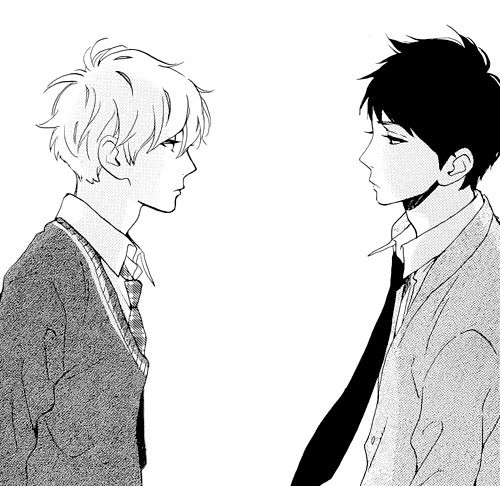 Going back to Daytime Shooting Star, as I mentioned before I used to read these tropes all the time. One of my favourite series was Dengeki Daisy, but in it Teru doesn't get with Kurosaki while she's still in high school. It is heavily implied that he refuses to acknowledge his feelings for her and won't date her because of this. There are some other things about this that are clearly problematic and I do plan on rereading the series in the near future, since I own every volume…but it was the fact that he acknowledged that she was a teenage girl and decided not to pursue a relationship that I liked at the time. I believe I was like 17 to 20 when I was reading this series so again, my perspective may change like it did with Papillon.
Daytime Shooting Star has so much to offer. I rated volume 8 a full 5 stars! I just can't review this series without discussing the problematic relationship between Suzume and Mr. Shishio. It caused her so much anxiety, and then upon the end left her depressed. It hurt seeing her that way and watching her friend encourage her to get with this older man who is clearly has an unfair power dynamic in their relationship.
Mamura, the other love interest in this series is protective of Suzume and I hated how in the last volumes this came across as him finally stepping up to be a rival when it in fact he was straight up calling out his teacher for having an extremely inappropriate relationship with a female student. Mamura is a good friend, and I'm glad that in volume 8 Suzume realizes this. I know that putting the spotlight on his character is meant to show him as a potential love interest but it is clear why most readers rooted for him from the beginning.
I'm looking forward to reading the rest of the series and keeping my fingers crossed that Suzume's ending is a good one…but I'm somewhat doubtful that her and Mamura will end up together as the forbidden love trope tends to be one that really draws audiences in, in terms of drama. Perhaps if they had been college students, and Mr. Shishio was her TA I would feel slightly more comfortable with the relationship…but as of now I'm just glad her uncle put him in his place.