I love writing while it's raining. I've been doing short scene exercises lately, featuring the characters in Vermin. I won't post them here because I'd like to avoid accidentally giving any spoilers, but I'm having a lot of fun with these.
I've been doing these exercises by hand, and recently bought the most beautiful pen! It's light blue and has got flakes inside that you can shake. It's super soothing and on top of it looking nice it also writes wonderfully. The ink is really nice.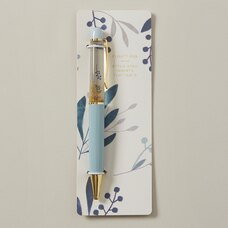 For a time I had an obsession with these Muji pens because the ink was extremely nice and smooth. I haven't been able to go t the store that sells those pens since 2019 and thankfully I've found an excellent (and stylish) replacement.
I should note that I also received a discount on this pen because I am an Indigo Employee, but I absolutely love it and wanted to share it because you'll probably see it featured in a bunch of my bookstagram posts. Sometimes I just like watching the glitter and flowers move back and forth. It's such a simple little thing but it makes me happy.
I actually purchased a similar pen in pink for my sister's birthday, and it is also very pretty.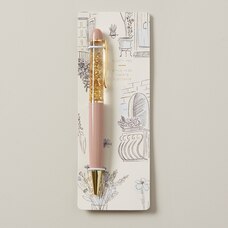 I really love my new pen.