About
When Becca transfers to a high school in an elite San Francisco suburb, she's worried she's not going to fit in. To her surprise, she's immediately adopted by the most popular girls in school. At first glance, Marley, Arianna, and Mandy are perfect. But at a party under a full moon, Becca learns that they also have a big secret. — Goodreads.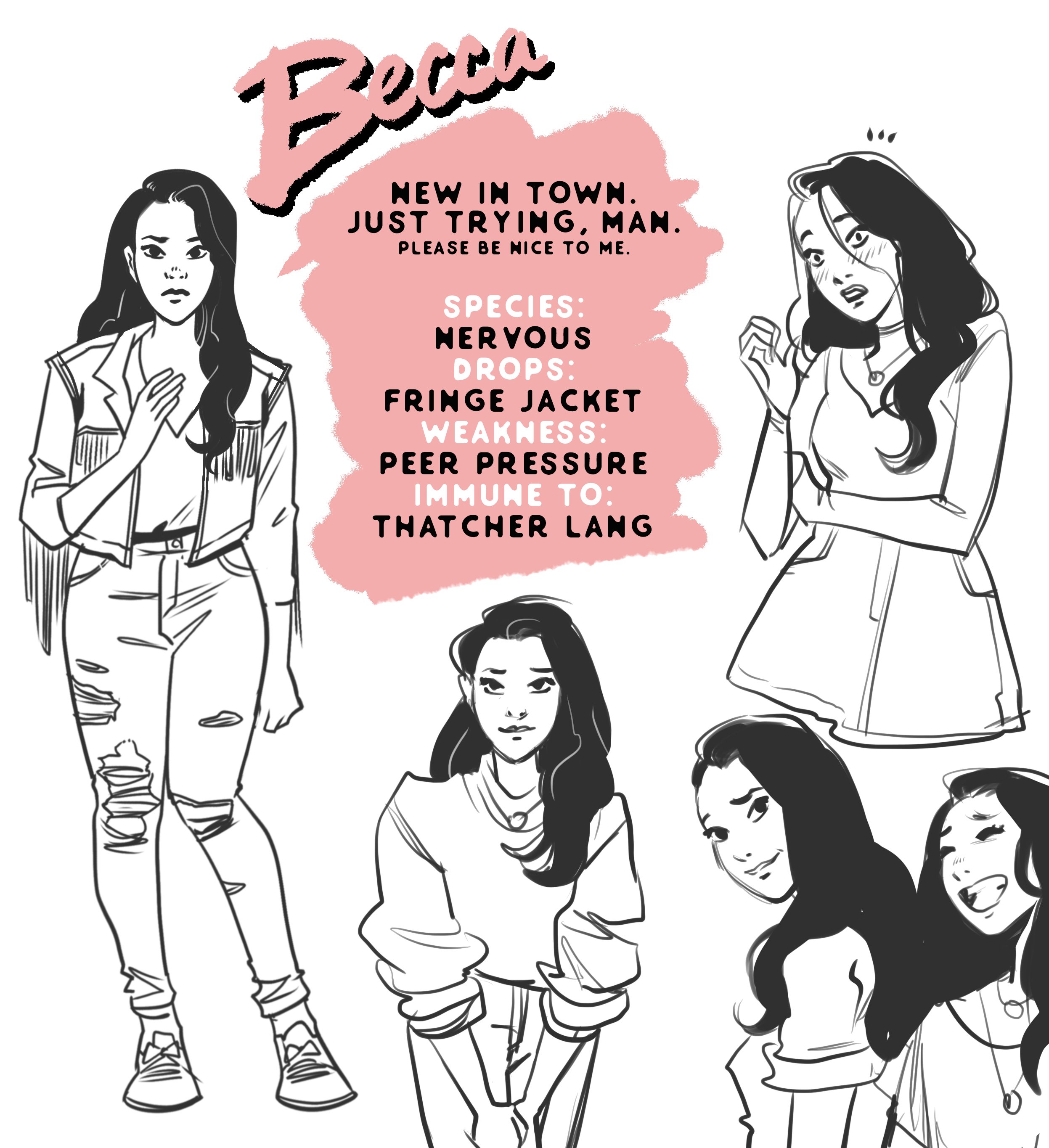 Thoughts
This book made me think of Mean Girls but with a hairy twist. The artwork was absolutely gorgeous, but the overall story didn't exactly meet my expectations. Of course, it was a fun concept, but Arianna, Becca and the other girls constantly obsessing over being skinny and Amanda being stereotyped as the mean black girl didn't sit well with me.
I also felt Becca could've been developed more? She was the leading character but it was almost like she fell into the background. The focused seemed to be on Arianna and Marley despite being from Becca's perspective.
I'd also like to point out that Arianna looks like Arianna Grande. Not sure if that was done on purpose but it did get a little chuckle out of me.
The friendship and then relationship that bloomed between Becca and Marley was sweet, but overall Marley seemed to be the stronger character. Off the bat, the reader can see her personality, how she fits in with the rest of the group and how she feels about them going around feeding off predatory boys whenever they turn.
Unfortunately Amanda's disapproval of Arianna's leadership, comes off as both anger and jealousy, when she states several times in the story that she prefers to be called Amanda, not Mandy–which is why I'll be respectfully addressing her as Amanda during my review. She mentions this several times throughout the story and the other girls completely ignore her. Often Amanda sits quietly observing the others. Becca even seems to think Amanda dislikes her, as Amanda is often glaring at her and the rest of the group. When Amanda becomes more vocal about her opinions, she's completely ignored by Arianna and the others…but I'll try not to spoil anything. I just wish this character had been written with a little more care.
With that note, there were also several times where other characters made icky comments toward Becca about her race, and it wasn't ever condemned or even questioned. It was clear that both Becca and Amanda were being mistreated but they just made up their faces at these comments being thrown at them. I don't even recall Becca once thinking about how the other students talk to her. Even the comments about her clothes and her weight are unsettling.
I'm not saying that keeping quiet isn't a realistic reaction, especially with people trying to fit and giving in to peer pressure. When I was in high school and I had classmates say some pretty icky stuff that I didn't always know how to handle. Sometimes you're so shocked by what is being said to you, that you have to sit there and process it. Sometimes you wonder if your feelings are even valid, or if you're just overreacting…and I totally get that, but if that is what Becca and Amanda were grappling with, then it should've been shown more clearly. I get that this wasn't exactly the main focus of the graphic novel, but regardless of that fact this book is a recent release from October 2021 it should at least acknowledge that racism is never okay, especially if those types of remarks are coming from so-called friends. I wish that there had been a moment where Becca has a moment of reflection or clarity upon hearing one of these gross comments. Even if it's just a brief, "That hurt my feelings, but I wanted so badly to be apart of the Squad that I kept my mouth shut." I felt this way about the unhealthy fixations with being thin. It was a lot…and I already know there are friends of mine who will require a trigger warning just for that. It didn't sit well with me at all, and honestly at some point it should've been condemned, or at the very least contrasted with something else. Like Becca's mom is obsessed with it, and all the girls are obsessed with it, and Becca is obsessed with it…at a certain point one of these characters could've said something. Even Becca could've questioned her mother's obsession with her weight. Something as small as that, would've at least been better than nothing at all.
It was because of those elements I actually found it hard to enjoy the rest of the story. I mean, who doesn't love reading a monster-girl revenge story? It had such a good premise, but it definitely didn't hit the mark for me. Lovely artwork though.
And as always, just because this book wasn't for me, doesn't mean that it's horrible and I wouldn't recommend it to others. It's still a cool concept, I just felt a few things took away from my reading experience.
Rating
Summary For the past six months, newly chosen Green Lantern Sojourner "Jo" Mullein has been protecting the City Enduring, a massive metropolis of 20 billion…
Summary Amaya, princess of House Amethyst in Gemworld, is something of a troublemaker. She and her brother have great fun together until a magical prank…
Let me start off by saying that it felt like an eternity while I waited for this issue to come out. I was so excited…