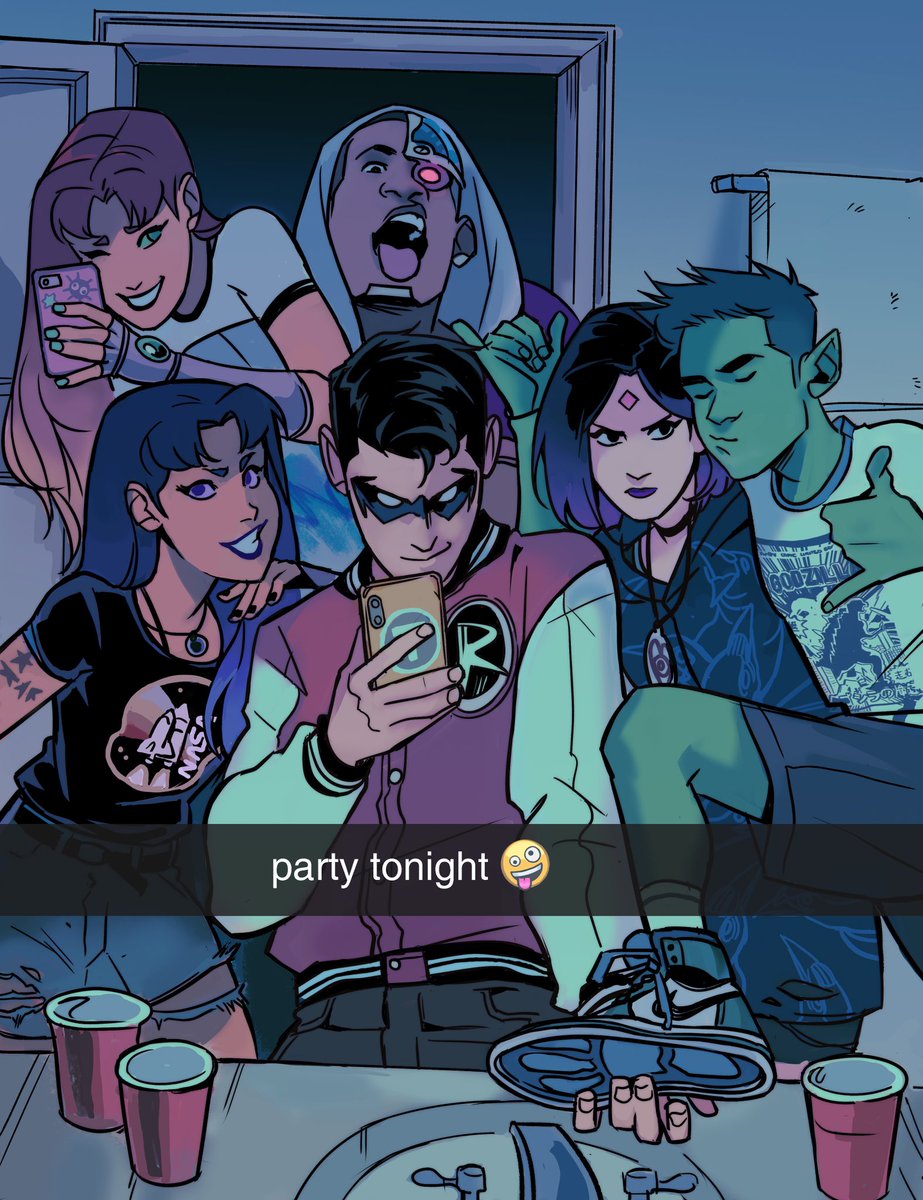 Fun fact, I am a big Teen Titan's fan…or should I just say DC? Most of the character arc's I follow are either in the Batman universe (the Robin's, Nightwing, Joker, Harley, etc) and outside of that I love the Titan's, Justice League, Young Justice…etc. I like teamwork.
Anyway, I've been following Picolo for a while on Instagram. Actually, I think I found his work on pinterest first because I have a board dedicated to DC comics and fanart, and I'm pretty sure his work featuring the Teen Titan's is what lead me to his other work (Icarus and the Sun).
When I learned that Gabriel Picolo had been hired by DC to share his versions of the Teen Titan's I was ecstatic! I knew it was something he was passionate about and I couldn't wait to see him bring the character's to life.
On the other hand, I was unfamiliar with author Kami Garcia but I could tell upon reading Raven that she had a love for these character's. When I went on to read Beastboy it was clear that these two were a destined duo! The artwork and writing style complimented each other perfectly.
When I first saw Picolo's designs of Raven, I was pleased with the fact that he captured her overall aesthetic so well. Much like how Raven's style and personality were captured in Titan's on Netflix. There was care put into how she dresses herself, how she walks, the actions she takes to guard herself (and her heart). It was so clear to me that the designers (in the case of Picolo, the artist), not only understood who Raven was but cared about her character and how she blossoms as a person during her time with the Titan's.
Similarly, Beastboy was portrayed in this comic series with just as much care. Out of the two books, I actually think Beastboy was my favourite. Everything about him was true to his character, even the little add-ons. His friends were likeable, and it is clear from the beginning that Garfield aka Beastboy had been "monkeying around" long before he was bit by that weird green monkey.
Now, if you've read my other comic and manga reviews then you'll know that I love comics with superheros and cute love stories. So, it's probably no surprise that I cannot wait until Beastboy Loves Raven is released!
Aren't they adorable? These two are my favourite ship across all the DC comics (aside from Bruce Wayne and Selena Kyle). I love how Beastboy is so colourful, warm and bighearted. This is shown a lot through his comic. He truly cares for other people, which is why at times he puts up a front as a tough guy to protect himself.
Raven on the other hand wants nothing more than to love and be loved, but her origins…and mere existence, put those around her at risk. Despite wanting to be close to other people, she isolates herself out of fear. It's only when she's with an incredibly strong group of friends that don't fall victim to her cold exterior, that she opens up and is truly herself.
My rating for Raven:
Raven was almost there. I want to give it the full 5 but there were parts of the story that just didn't do it for me. I honestly think it was because it was the first time these two had worked together on a project, along with trying to introduce these new character's into the story. I much preferred the side character's in Beastboy as they felt more integrated than they did in Raven. Raven/Rachel's foster sister and love interest were alright, but honestly her foster sister stood out a lot more than the others in the story.
My rating for Beastboy:
Beastboy hit all the marks. It was clear from the beginning who Gar was, and what the people in his life meant to him. He was a strong character supported by a cast of other strong character's, which made for a fun story. I liked reading about him discovering his powers, and the consequences that followed because of it. I also liked that Deathstroke is lurking in the shadows throughout the story. The team (Garcia and Picolo) also did a good job at integrating Beastboy into a modern day setting. They gave me the, average teen just trying to navigate life vibe while still being true to this character which meant a lot to me as a fan.
I wonder what I should read next? My list keeps growing!
Check out my other manga reviews and recs!
About After Natsumi's younger sister and best friend Haru dies at the age of 19, she begins dating Haru's fiancee Togo – on the condition…
About Every girl dreams of starring in her own love story. Hatori also firmly believed that one day she would marry her childhood friend, Rita—but…
About Basketball club manager Yuki has a secret-she's in love with the team captain! But when Naruse, her cheeky kouhai, discovers her big secret, she's…